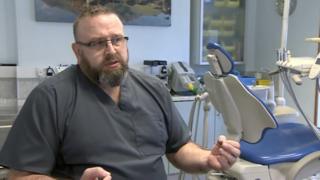 A dentist has suspended all non-urgent appointments in response to the coronavirus outbreak.
James Breedon of Keswick, Cumbria, said it was "pointless" to go on if there was a risk of spreading the virus.
He said it would mean a "few inconvenienced people", but carrying on could mean "more people get the virus and die".
NHS England has advised dentists to stop doing several procedures, including fillings and polishing.
Mr Breedon, who works at the Brundholme practice, said: "The equipment we use in the dental creates a spray or aerosol that will spread the virus.
"It seemed pointless to continue doing that."
He said he had worried he was "overreacting" but ultimately sided with caution.
"The worst thing that could happen [by cancelling appointments] is a few inconvenienced people," Mr Breedon said.
…
Read More