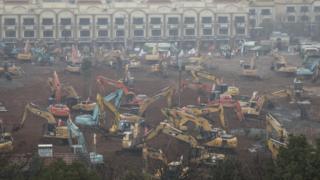 The Chinese city of Wuhan is set to complete a hospital in six days in order to treat patients suspected of contracting the coronavirus.
There are now about 10,000 confirmed cases in China, 213 of whom have died.
The outbreak began in Wuhan, home to around 11 million people. Hospitals in the city have been flooded with concerned residents and pharmacies are running out of medicine.
According to state media, the new hospital will contain about 1,000 beds.
Video footage posted online by Chinese state media showed diggers at the site, which has an area of 25,000 square metres (269,000 square feet).
After five days, progress could be seen on the once empty site.
Interactive

See how the new Wuhan hospital has taken shape

January
…
Read More