Archives of Public Health | Home page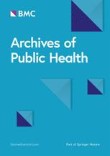 Aims and scope
Archives of Public Health is a broad scope public health journal, dedicated to publishing all sound science in the field of public health. The journal aims to better the understanding of the health of populations. The journal contributes to public health knowledge, enhances the interaction between research, policy and practice and stimulates public health monitoring and indicator development. The journal considers submissions on health outcomes and their determinants, with clear statements about the public health and policy implications. Archives of Public Health welcomes methodological papers (e.g., on study design and bias), papers on health services research, health economics, community interventions, and epidemiological studies dealing with international comparisons, the determinants of inequality in health, and the environmental, behavioural, social, demographic and occupational correlates of health and diseases.
Sign up to receive article alerts
Archives of Public Health is published continuously online-only. To keep up to date with all of the latest articles, sign up to receive free email alerts by registering here.