Group Fitness – recsports.ufl.edu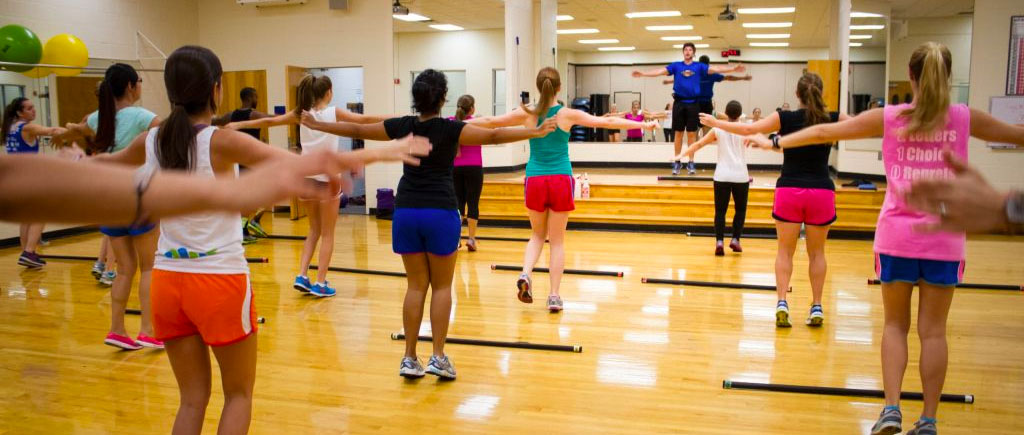 Group Fitness offers FREE, cutting-edge services to all currently enrolled University of Florida students and RecSports members of all abilities. The program has become one of the nation's largest and most recognized Group Fitness programs. With over 165 classes offered per week during the Fall and Spring semesters, there is something for everyone!
Group Fitness at a Glance
Over 165 classes per week offered during fall and spring semesters
Modified summer schedule and holiday schedules
Online registration (opens 25 hours before each class)
Locations include SWRC, SRFC, Broward Pool, UF's stadium and more. See weekly class schedule for more information.
Format Categories
Cycle
Mind & Body
Dance
Outdoors
Strength
Cardio
Our certified instructors are top-quality, providing a workout experience that is sure to leave you wanting more!
All Group Fitness classes include modifications for all fitness levels to ensure that everyone can take a step toward meeting their fitness goals.
Quick Links
Registration At A Glance
Registration opens 25 hours before each class on RSConnect.
Your GatorLink credentials are used to log on.
Participants must show up 15 minutes before class to guarantee spot.
5 minutes before each class, participants in the stand-by line are moved into the spots of registered participants who have not arrived.
Follow the instructions on RSConnect, including the cancelation policy and other terms you accept during check out. Follow all the steps to complete the registration process. You will be emailed a confirmation when you complete the process. If you did not receive an e-mail, you likely did not complete the process.

You can check your status in the class online by visiting RS Connect – Click on name in top right corner-select "profile"- on left hand side, select "programs"- Here you will find a list of all of the classes you have ever registered for and your status in each one
Where to find Registration
Visit the Weekly Class Schedule and click on a class of interest. This will take you to RSConnect.
You can visit RSConnect directly rsconnect.recsports.ufl.edu, then select Courses from the main navigation. Next, select Group Fitness Classes from the "Course Categories" menu on the left side of your screen.
Cancellation
Should you be unable to attend, you agree to cancel your registration no later than 3 hours prior to the class by either:

Calling 352-846-1081 ext. 6.

You may only call within facility hours and must continue to call until you speak to an employee.

Online

Rsconnect- Click on name in top right corner-select "profile"- on left hand side, select "programs", find class you wish to cancel and select "Cancel".
The Instructor Training Course is a 10-week not-for-credit class during which time students will learn all the necessary information and skills to be a group fitness instructor. Students will be exposed to six different types of class formats: cardio, strength, dance, mind/body, cycle, and outdoor. The training course consists of weekly presentations, master classes & evaluative feedback. Participants will have the opportunity to ask questions and participate in group fitness classes and practice sessions outside of class time. This training course requires a significant time commitment from all participants. No experience is required.
Registration and Auditions
*Registration opens October 23, 2019 at 9 AM*
*Auditions are November 14, 2019. Audition time slots will be held at 3 – 4 PM, 4:15 – 5:15 PM, 5:30 – 6:30PM @ Southwest Recreation Center*
Go to RSConnect, log in with your Gatorlink username and password
Click on GROUP FITNESS CLASSES
Click on GF INSTRUCTOR TRAINING COURSE- GROUP AUDITIONS
Choose a date that works for you and follow the steps to complete registration
NOTE: Registration for a Group Audition does NOT guarantee that you will secure a spot in the actual Course.
Course Details
*The Instructor Training Course begins January 7, 2020 through March 19, 2020 and meets at the below times weekly (with exception of spring break)*
| DAY | TIME | LOCATION |
| --- | --- | --- |
| Tuesday | 3:30 PM – 5 PM | SWRC Activity Room 1&3 |
| Thursday | 3:30 PM – 5 PM | SWRC Activity Room 1&3 |
For any further questions please contact:
The Group Fitness Administrative Staff
[email protected]
See Group Fitness Instructor Training Guide for more information