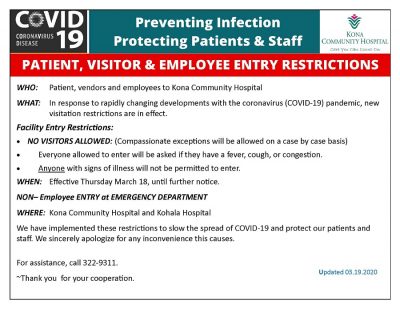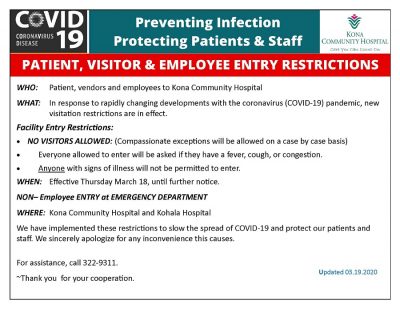 ---
Letter from Anna Chiotti-White, West Hawaii Regional CEO 
It is my sincere honor to have recently begun the  position as Regional CEO of the West Hawai`i Region of Hawaii Health Systems, including Kona Community Hospital (KCH) and Kohala Hospital.  I look forward to continuing the organization's commitment to delivering quality healthcare to Kona and West Hawai`i residents and visitors.
It was Kona Community Hospital's (KCH) all-encompassing "Aloha spirit" that really attracted me as I accepted the position as CEO in November 2019. The hospital's philosophy is that every person that comes through our door is treated like `ohana.  Daily, you can see that philosophy in practice as staff compassionately treat every patient as if they are family.
As the new Regional CEO, I will strive to provide exceptional care as our patients are friends and neighbors.  Our staff operates as a family of professionals delivering personalized care with dignity and respect.  Our patients benefit when we work together as a team, committed to caring for each patient in the most effective and timely manner.
In an effort to continually improve our patients' healthcare experience, we have developed collaborative partnerships and programs that bring state-of-the-art technologies, services and highly qualified specialists to our community.  At KCH, our services include inpatient care, surgical services, prenatal and obstetric care, cancer treatment and 24/7 emergency care in our Level III Trauma Center to name a few.  We are readily available to meet the healthcare needs of our community with a skilled team, prompt service and treatment delivered with courtesy and respect.
I have been in healthcare leadership for 30 years, and am a nurse leader by training. Kona Community Hospital's commitment to provide first rate, on-island care to our community resonates with my personal and professional objectives. Hawai`i Island's heart and "Aloha spirit" called to me and my husband, so we have gladly and gratefully settled in Kona.
I'm proud to be on the team at Kona Community Hospital and all the West Hawai`i Region facilities. Our success is sustained by the steadfast dedication of our partners in care including nurses, employees, members of the West Hawai`i Region Board of Directors, the Kona Hospital Foundation, KCH Auxiliary volunteers and community members. Together, we can continue to make Kona community Hospital the healthcare provider of choice for West Hawai`i.
Mahalo for your support of Kona Community Hospital, Kohala Hospital, Kona Ambulatory Surgery Center and Ali`i Health Center.
---

---
Statement of Non-Discrimination
Hawaii Health Systems Corporation, its Regions and Facilities comply with applicable Federal, State and Local civil rights laws and rules and do not discriminate on the basis of race, color, ancestry, national origin, religion, age, disability, sex, sexual orientation, or marital status.
Click here to see a full Notice of Non-Discrimination
---
Language Access Services